Copyright © Winning With Sport Ltd of all images and videos since 2010 to current date.
Except where an advertiser or player has copyright, all content copyright is owned by Winning With Sport Ltd.



ASPIRE to be the BEST that you can be
Performance Coaching, Mental Toughness, Technique, Creativity, Diet & Nutrition and WINNING.


Tennis in West London:
To sign up email:
gregbamford7@gmail.com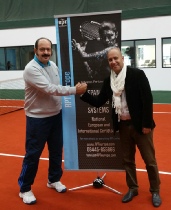 Greg Bamford performance and mental toughness expert at RPT Conference 2016, with sports and life psychologist Jean-Marc Sabatier.


Adult individual and group lessons.

Children individual and group lessons & camps..

Kids Club: After schools groups.

Private groups.

Tournament training.

For Adults: Workouts better than cardio tennis.

Improve fitness and mental toughness.

Become a winner.
Tennis Lessons: Click the Lessons tab above